CHS Diamond Jubilee
Campfire
'Stop, Rewind, Play,' is the chosen theme for this year's CHS Diamond Jubilee Campfire. The campfire was held at night on 16th July 2016 and it was organized concurrently with our annual leadership camp which was held on the 14th to 17th July 2016.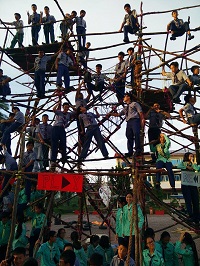 Previously, the Scouts and Girl Guides would alternatively organize the campfire annually. This year, a first in our school's history, members of Scouts and Girl Guides joined forces to organise this special event. The committee are from the 9th Petaling Scout Group, 8th PJ Coy and 16th PJ Unit Rangers.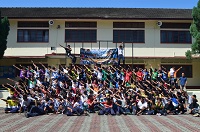 On the night of the campfire, the VIPs were welcomed into the hall at 7.30pm. The Diamond Jubilee Campfire began with a bang where a roll call was made. All the troupes represented at the camp identified themselves, followed by giving out of souvenirs to the representatives of the uniformed bodies from the 14 participating schools. Schools represented at the camp were from W.P Kuala Lumpur, Selangor and Melaka. Next, our principal, Mr. Ong Boon Puah, delivered his welcoming speech followed by a speech from the Vice Chairman of the School Board of Governors, Dato Tommy Kok.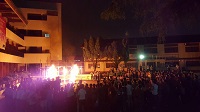 Our school's choir kicked off the nights performance with a powerful rendition of the songs 'Stand By Me', 'Rather Be', 'Can't Take My Eyes of You', and 'Heal the World'. Then, a few students from the Diabolo team entertained the audience with their skills and dazzling play of the Chinese Yoyo. This was followed by a video presentation about the theme of this campfire night.
During the 15 minutes interval, the participants enjoyed some light refreshments. The participants were also given the opportunity to toast marshmallows at the tripod roasting sets that were skilfully built by the scouts.
Next, our school band, Sinfonietta performed a few songs which include the upbeat hit song by Pharrel with the title, 'Happy.' The form 3 Scouts and Girl Guides also performed a dance. After the rain stopped, everyone gathered at the assembly ground for the fire lighting ceremony which concludes the CHS Diamond Jubilee Campfire for Year 2016.
Mdm Audrey Kho Hui Yen